Lion's Should Hunt

"The inspiration for 'Lions Should Hunt' came after seeing another advert featuring a busty blonde model. I felt sick of being pandered to and sick of excuses for men and by men. If you expect to live in a modern day society then there are no excuses for being a misogynist piece of shit." – Jack Avison, Speak Easy Circus
Speak Easy Circus
Speak Easy Circus are an experimental indie/funk posse from the East End of Glasgow. Their chaotic crescendos and eclectic overtures, a celebration of the strange and the new, are a "circus" of tongue in cheek attitude and unpredictability. Speak Easy Circus are a breath of fresh air for everyone into never- the-same-way-twice musical curiosity and funky grooves.
Speak Easy Circus are
(Jack Avison – Guitar/vocals/keys,
Jon Wallace – Sax/Keys,
Frazer Laurie – Drums
Chatonda Ridley – Bass)
They released their debut EP 'Bravo Tango Charlie' to an unsuspecting world in 2019, drawing excitingly bewildered comparisons to artists as far apart as Earth, Wind and Fire, The Libertines, Vulfpeck, Frank Zappa and Snarky Puppy.
Following sell out shows at King Tut's and the O2 Academy, Speak Easy Circus and their phenomenal brass section released the single 'Neon in Daylight', a self-proclaimed 'summer-banger' in April 2020 to great acclaim, reviews and airtime on many radio stations throughout Glasgow and Scotland.
Speak Easy Circus' unique musical fusion as well as their politics don't show the world as it is, but rather as it could be. When the lunatics take over the asylum.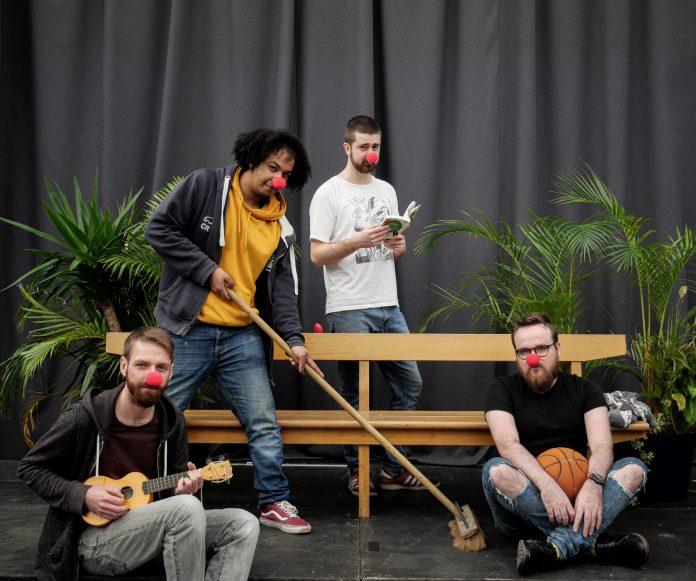 Extra info on the song (
Most of the songs are written about things that I have experienced or observed. For example the inspiration for our latest single 'Lions Should Hunt' came after I saw an advert featuring a busty blonde model seductively selling something and I was annoyed that this was what people thought would be an effective advertising technique, and annoyed by the fact that it probably was effective! I took that further to think about how men are taught to think about sex, the effect that concepts of masculinity have on us etc. It all sounds very serious or preachy but we try to make sure it isn't! I think that it is important to discuss these topics but that doesn't mean that you can't do it in a tongue-in-cheek way. 
Twitter @speakeasycircus
https://www.facebook.com/speakeasycircus/